Brochures & Magazines
Read our latest World Traveler Magazine or
click here
for ALL our digital publications.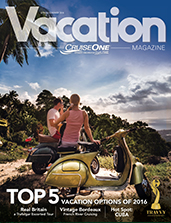 Ask your Vacation Specialist for our FREE Brochure
CRUISEONE MAKES A DONATION TO THE MARSHALL UNIVERSITY ALUMNI ASSOICATION for all cruises, land packages and resorts reserved through this agency. * * * * * * WELCOME MARSHALL UNIVERSITY ALUMNI AND FRIENDS OF MARSHALL to the MUAA's dedicated cruise vacation website. Whether you're an experienced cruiser or you're researching your first cruise, this website is your one-stop toward realizing your perfect cruise. Visit us often and check below as we will be offering several exciting group cruise itineraries at even better prices with special amenities; and we welcome your group cruise suggestions. Here you'll realize great personal service, the best available individual cruise and resort rates and CruiseOne will donate a percentage of your cruise cabin fare or resort room rate to the Marshall University Alumni Association. TO CONTACT THE MUAA TRAVEL CONSULTANT (MU Alum), use the "envelope icon" located above right, the "Contact Us" link at the bottom of this homepage or use the TOLL FREE number. THANK YOU FOR SUPPORTING THE MUAA! GO HERD ! ! !

read more
From Your
Vacation Specialist

WELCOME MARSHALL UNIVERSITY ALUMNI AND FRIENDS OF MARSHALL! This one-stop site guarantees you the best available resort, cruise and land travel rates and makes a donation to the MUAA for each reservation. Steve / MU Alum
WANT TO HOST YOUR OWN GROUP? Here's how . . .
Meet Steve Ashworth & Crew . . . Your Travel Specialists